Sans Souci Nursery, LLC
Specializing In Irises
3819 Beatty Road
Monkton, Maryland 21111
Phone :(410) 557-0250
E-Mail:lbh0251@msn.com

New Introductions
---
Ohayo Gozaimasu
[Good Morning]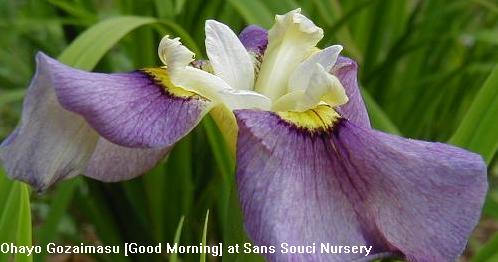 After 11 years of effort, Sans Souci Nursery is proud to announce the registration of Dr. William Ackerman's newest interspecies cultivar. At the 1990 convention of the Society of Japanese Iris in Portland, Maine, two fertile tetraploid interspecies cultivars (Ensata/Pseudacorus) were brought to auction from Japan. They were Sayo No Tsuki & Hatsuho, the parents of this seedling. The bloom is a 3F lavender falls with a bright yellow signal surrounded by a maroon halo with maroon rays extending into the lavender falls; standards are pale yellow in contrast to the bright yellow stylearms. Bloom stalks are 22 inches tall with 2 terminal buds that open 51/2 inches the first day & are 61/2 inches the second day.
Order yours now! LIMITED SUPPLIES - $25.00 per division

Order Form


---
Maryland Ho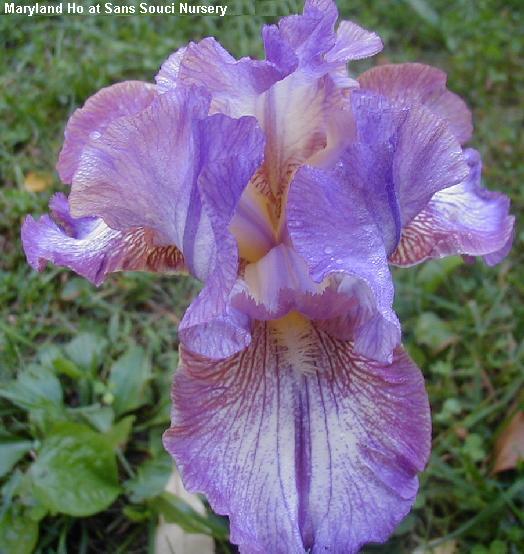 A tall-bearded reliable rebloomer out of Northward Ho X unknown which has reliably rebloomed from July until November for the past 5 years; awarded EC (exhibition certificate) October 2002
We have an adequate supply and welcome your order!
Currently priced at $10.00 each, three for $25.00!
Order Form
---
Roadside Wonder
While the stately, tall Siberian iris Caesar's Brother (1931) has been a standard for landscapes and blooms for 3 weeks in May, Kitty Ackerman's Roadside Wonder blooms for 8 to 10 weeks beginning in May and is prolific to the point that our 3-year clump had 136 stalks! 2-to-3 termimal buds plus one branch give a total of 3-4 blooms from one stalk!! The flower is dark purple with an almost imperceptible white rim that draws attention across the garden. Bloomingissequentialandtheclumpform is incredibly tall and stately. The iris is a pod-seedling of Shaker's Prayer.
We have an adequate supply and welcome your order!
Currently priced at $10.00 each.
---